Have you ever felt Energy with your hands before?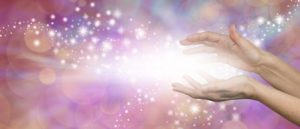 How would you like to learn to use your Hands for Healing?
*
Join me for an in person Workshop
Saturday, October 7

th

 
Noon – 5 pm
*
Explore how you can use your hands to heal yourself and others!
No experience necessary!
*
Note: Location to be determined once I have a head count.
*
Some of the fun things you will learn are:
*  How to communicate with a Spirit Guide
            (And it's FUN!  Can have them run errands!)
* How to heal yourself while healing others (clear energy faster than just meditating
* The full Basic Healing Technique
            Basic introduction—learn to do basic healings (grounding, aura, channels, chakras)
* Heal the aura, heal the body (heal the spirit, heal the body 
* Aspects of working with energy
            No effort
            Pretending helps!  Amusement goes along way
At the end of the class, you'll receive a cheat sheet at the end of the class so that you won't forget how to give these amazing healings.
*
Cost:  $225