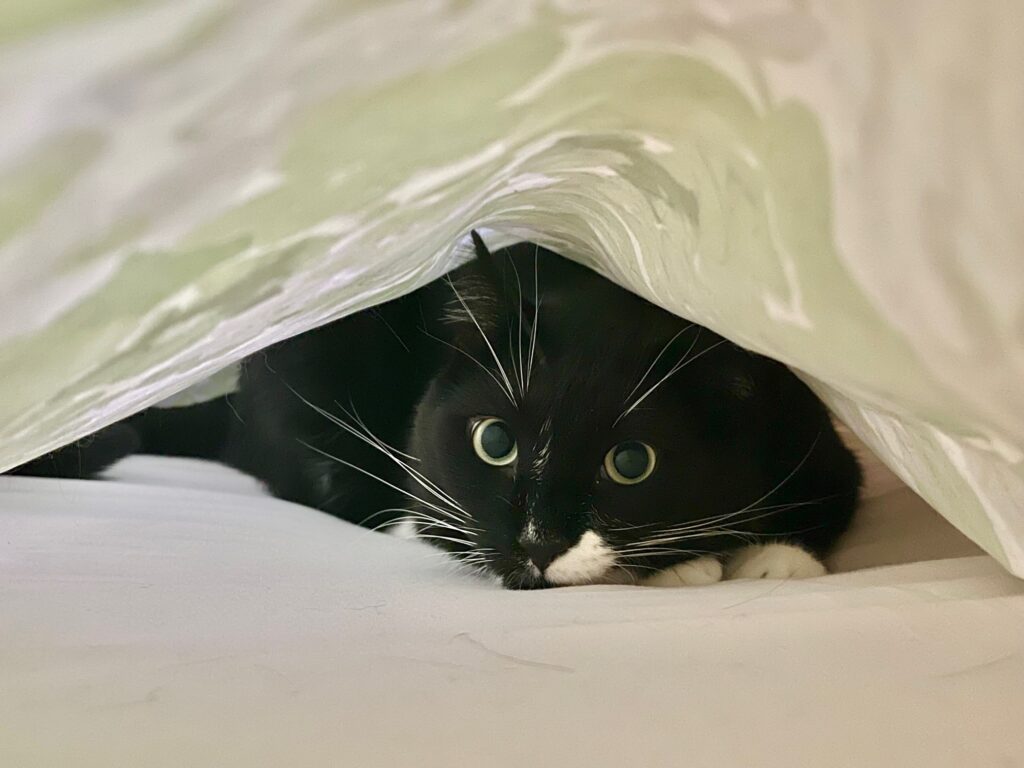 Not only Ruby has a story and observations. My name is Wheelock, but you can call me Wheels. That's what I told Janet when I met her. Ruby wanted a brother, and I was at the animal foundation when Janet found me.
I knew right from the start that Janet was my mom. She brought a wonderful stuffed toy with her, a unicorn of many colors. I really wanted to play with that right then and there, but more than anything I wanted to cuddle and snuggle with Janet.
When I came home, I couldn't meet Ruby right away. She was pretty freaked out and I was told that she hid under the bed the first day I was there.
Each day she got a tiny bit more curious. By the seventh day, she was right by the door of the bathroom, and she was watching my tiny paws try and reach for her.
That's the day the vet said that I could be introduced and when I came home, Ruby hissed at me once, and I hissed at her once. Then we began to play, and we've been best friends ever since.
That's my background. Now for the story I want to tell you today.
I tend to Bogart the toys when mom plays with us. So, Ruby always keeps a watch out for me when she was playing.
One day she came in crying from the balcony, and mom thought she wanted to play. While they were playing, Ruby never looked for me once. That got mom curious. She went looking for me and I was nowhere to be found.
It was in that moment she realized that Ruby was trying to tell her something earlier, like Lassie did. She said "What's wrong Ruby? Did Timmy (Wheels) fall down the well?"
Sure enough, I was not to be found anywhere on the balcony or in the condo. The outdoor search had begun. Janet walked around the building and didn't see me. It was just starting to get a little dark, so she went back into the house and found a flashlight. One of her guides told her to look down to the balcony below with the flashlight. It was then that she spotted me.
She came back down, and I wouldn't come to her, even though she could've reached me if I'd let her. The neighbor, who lived there, spotted her, and asked if I was her cat. He said that I had been hanging out on the balcony all afternoon.
He helped get me and handed me to mom and we went back into our condo.
This story became sort of a mystery as to how I ended up in the balcony directly below and over time I was able to tell mom what happened.
But the most immediate conundrum was how to keep me from doing that again. I really like chasing bugs. And flies and bees are so much fun, not to mention I've nabbed a few birds since then, because I spent the first three months outside. My cat mom taught me how to hunt before I became an indoor Kitty.
Janet would watch me on the balcony and got very agitated by my lack of concern for what looked like I my disregard for being on the other side of the balcony rail.
Just like she does with clients, she was looking for a solution by working the energy to keep me on the balcony. None of those things really seemed to affect my free spirit.
At her wits end, Scamp offered to speak to me. If you don't know about Scamp, he crossed the rainbow bridge before Janet moved to Nevada, and he had his own column in her monthly mailed newsletter.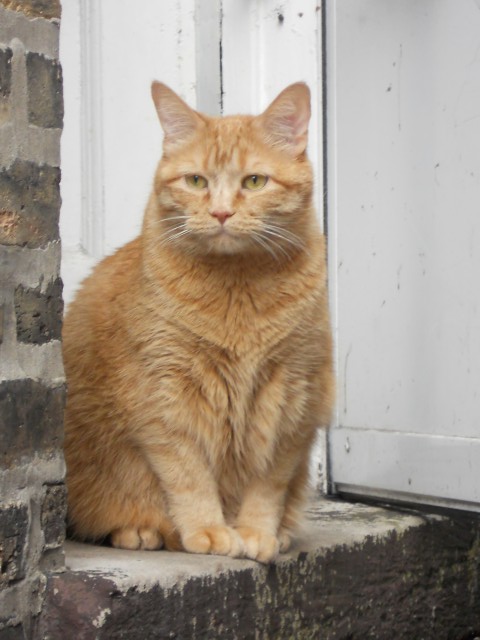 I was minding my own business when this kind and handsome orange cat sat down and told me about the time that he got outside when he was around my age (7 months). He told me that he was afraid to come to Janet called him too. As a result, he spent the entire night outside under a bush, scared out of his wits!
When the door opened at 7 AM, he flew into the house, like a bolt of lightning, and he never wanted to go outside again. His story put the fear of God into me. And after that, I had some respect for the rail and told mom that I wouldn't go over the edge again.
About five months later, at the vet when I got my shots, it was discovered that I was missing one of my canine teeth. Piecing together the events of the day when I went over the balcony, Janet had a more complete picture of what may have happened. As I went for a fly, I realized there was nothing below me, so I clung to and slid down the stucco wall leading me into the neighbor's balcony directly below. As I did that, I broke my brand-new canine tooth.
I'm kind of new to the energetic psychic healing world, but I am a healer in training. Ruby is quite accomplished and has been teaching me how to help Janet's students and clients when she's working with them.
And now, as I'm going on five years, I am starting to get the hang of it. I recognize that Scamp was a great healer, but he processed everything through his body.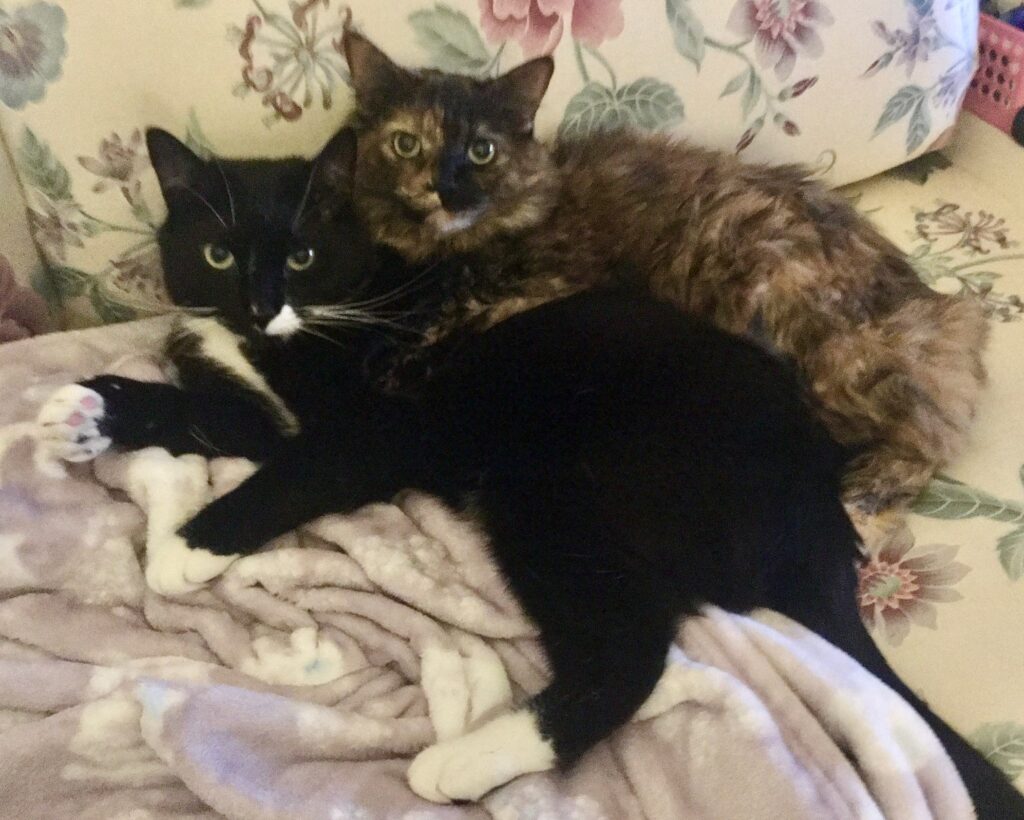 Ruby has taught me that I need to have everything I'm working on out in a bubble in front of me so that I don't follow in his footsteps. It's not so difficult once you know how to do it.
That's my story and I'll be letting you know what I think about other things down the road. If you need help with anything you're dealing with, you can always set up a call with Janet and Ruby and I will be there to help too. You can email Janet at janet@guidinginspiration.com.
Sometimes you just can't see that something is in your way to having the best time, like I didn't when I went off the balcony. Awareness is something you can have when there is someone in your corner. Sometimes you don't notice how the things you think affect your personal world. That's where Janet can help.