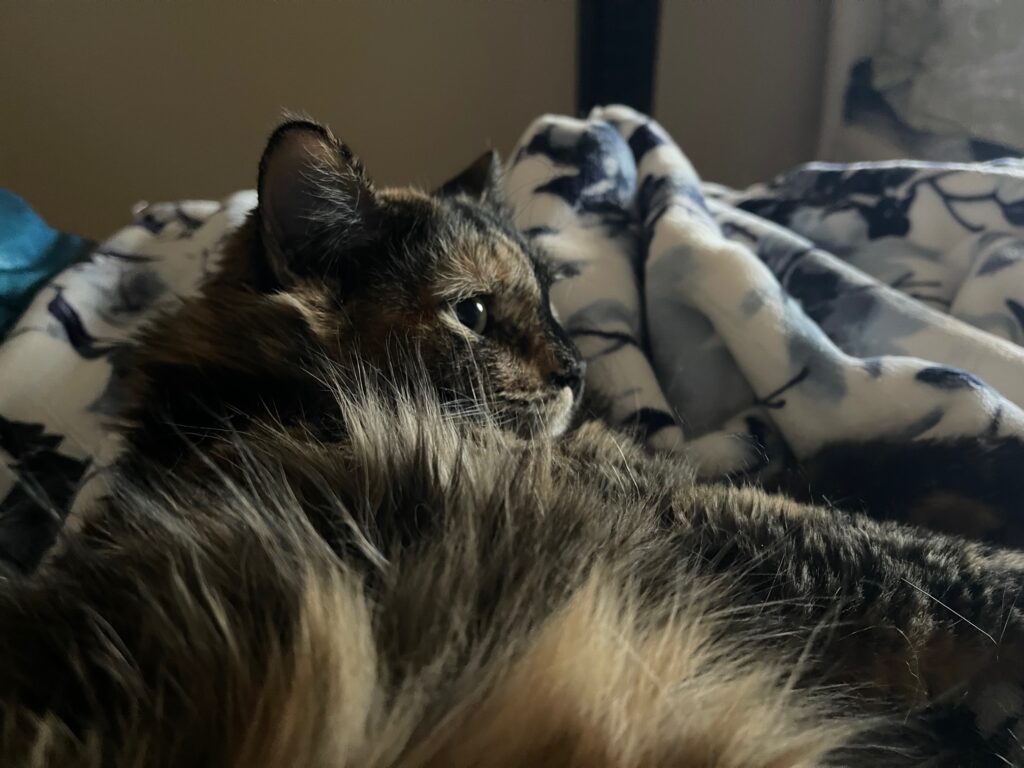 So as I lay on the cool floor tiles right now, chilling on my back (my favorite position), I think about what it's like to be part of the universe. After all, my full name is Ruby Nebula and Janet says that's because I am a galaxy unto myself. If you look at me laying on my back, you will see at least one great star on my stomach. I maintain it because it's my responsibility to work the energy of my own galaxy in a way that works for me. I wonder if everyone does that?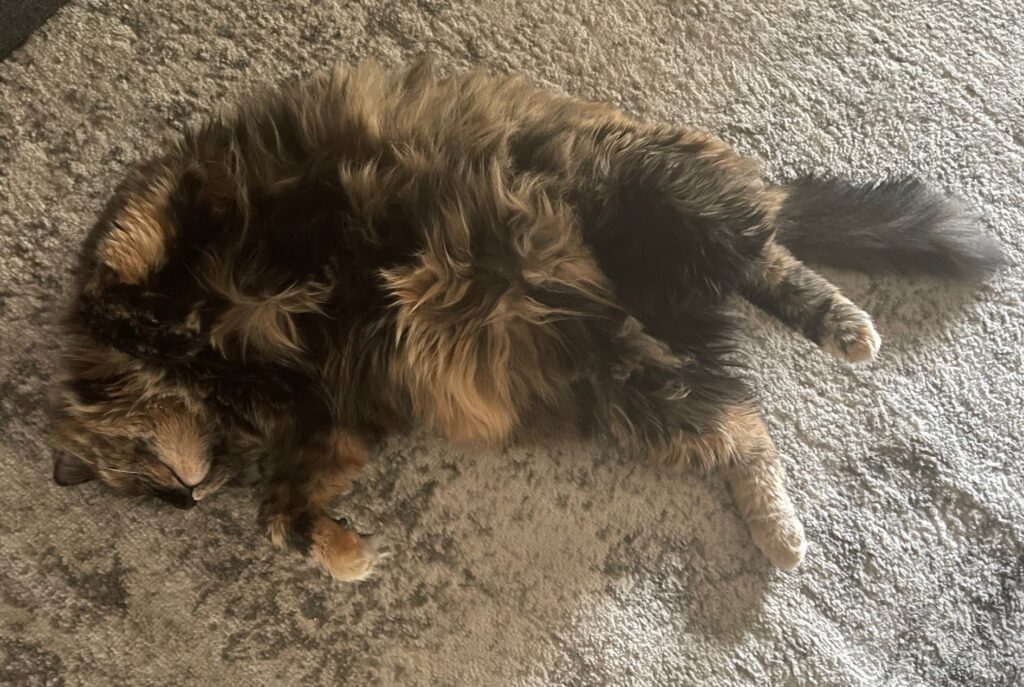 Maybe you remember Scamp. I talk to him all the time. He showed me that he was a healer just like me, and Janet showed me a little trick so I don't have to run anything through my own space so it's easier on my body.
Scamp travels the universe and comes by all the time. Janet says that many of you know him since he used to have his own column in the old newsletter many years ago. He's gotten really good at picking out great colorful neutral cosmic energy for the running energy style of meditation. And sometimes he gives me a heads up if Janet needs me to help in a session with a client.
I want to tell you a story.
Five was the absolute best uncle and I loved him sooooo much! He was such a handsome cat. I miss him a lot. Five told Alicia (his human mom) that Scamp passed Janet to him when he crossed the rainbow bridge and that Five stayed here on earth until Janet got her newest certification as a DreamBuilder® Coach. He helped her get over some self-blame on how Scamp passed over the rainbow bridge. She finally let go of that the day Five crossed over the rainbow bridge to join Scamp.
Janet told me that before she woke up and throughout that day, Five had a lot of amusement. Dr Smith (veterinarian) was really amazing, compassionate and kind. She asked Alicia and Janet what their favorite memories of Five were. So nice. There were so many! They brought special lights with them to make it gentler and more peaceful instead of the big florescent lights overhead.
It was a day of endings and beginnings for Five as he began his work as a Guardian of the Galaxy. Scamp picked him up in a red car or firetruck … No, it was a red convertible, and dropped him off at a space station to get changed into his awesome space suit.
After Five left his body behind, Alicia and Janet blew their noses at the same time and they began to laugh hysterically as they thought of Five and his sneezy, snotty nose. Five had always had a chronic upper respiratory infection and he was free of it at long last!
And now Scamp often brings Uncle Five with him when he comes to visit. Five was always a pilot when anyone he knew was on a plane, and now he is a pilot for the Universe. He and Scamp hang out together a lot and I'm so grateful to know and see them both.
If you ever worry about your animal babies, Janet loves talking to them and can help you have better communication or just ease your mind. You can contact her to get answers.